This easy-to-make and healthy recipe is the best way to make escarole soup. You can also use kale, collard greens, or turnip greens in this soup. Just use whatever greens you have available.
You'll love my easy escarole soup recipe if you're looking for an easy recipe.
The escarole soup is a simple, delicious soup with flavor and nutrition. It's a healthy alternative to traditional chicken noodle soup.
I make this soup a lot when I feel under the weather, but I also love making it for friends and family who come over. It's super easy and requires no cooking skills.
I know it's difficult to find easy low-sodium recipes on Pinterest or anywhere online, and it is a little harder for a beginner cook to make low-sodium soup from scratch. But it doesn't have to be complicated or expensive!
You can use broth that you buy at the store (generally healthier than canned) or even water if you don't want to spend money on it. It's just as healthy, less expensive, and tastes much better.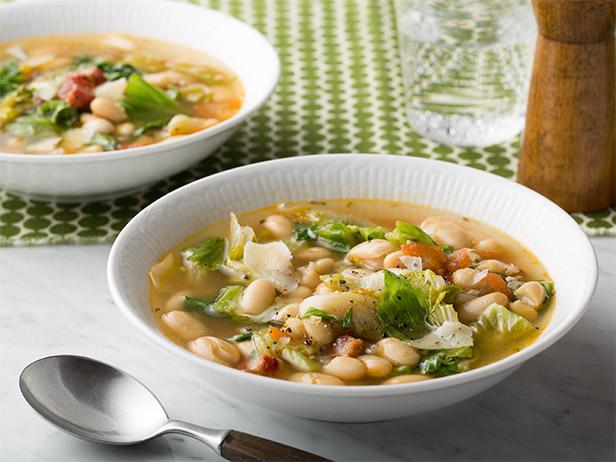 What is Escarole soup?
Escarole soup is an Italian vegetable soup that includes escarole, a member of the Endive family. It's a hearty, healthful soup packed with flavor and nutrition.
Escarole soup is also one of the soups I learned to make at my mother's knee. My mom made this soup all the time when I was growing up. It's her favorite soup.
This is a healthy, hearty soup full of flavor and nutrition. The broth is made from vegetables, herbs, and spices. I don't use any cream or milk in this recipe. It's a good soup to stock your pantry for busy days.
Escarole is a bitter green vegetable that is commonly found in Italian cuisine. It has a mild flavor that can be slightly bitter or sour, depending on how it's prepared.
What ingredients are in Escarole soup?
The escarole soup recipe consists of six main ingredients, and each one is important to the success of this soup.
Escarole is a green leafy vegetable with fiber and vitamins A, B6, and C. It's rich in antioxidants and is a good source of folate.
Chicken broth is a must for this soup because it gives the escarole soup a hearty texture and adds flavor.
Onions are used in this soup as a base for the escarole and chicken broth. They bring out the flavor of both ingredients and are also high in antioxidants.
Garlic is a powerful natural antibiotic used in this soup to enhance the flavor.
Ginger is a versatile spice that adds a spicy kick to the escarole soup. It is also high in vitamin C and is a natural anti-inflammatory.
Celery is a crunchy vegetable that adds a fresh note to the escarole soup. It's rich in potassium, and it is used to add bulk to the soup.
How o make escarole soup
Escarole is a bitter green leafy vegetable that resembles a cross between romaine lettuce and curly kale. It has a mild flavor and is packed with nutrients.
This recipe for baked escarole with Parmesan cheese is perfect for fall and winter but works well year-round. It's also easy to grow in any climate! Preparation time: 10 minutes Cooking time: 40 minutes Total time: 50 minutes Serves:
Escarole is very nutritious and can be used as a substitute for spinach in soups, salads, and pasta dishes.
How to serve escarole soup?
A serving of escarole has about 75 calories and is rich in vitamin C, vitamin K, folate, iron, magnesium, and fiber.
Escarole is a leafy green vegetable that has a mild taste. It is typically served cooked, but you can also eat it raw.
When I make escarole soup, I usually boil it, then blend it until it becomes smooth.
It's a thick soup that can be served hot or cold. You can add a bit more broth if you prefer a thicker soup.
I often like to serve it with garlic bread or a small salad. You can also try doing it with pasta or as a side dish.
Frequently Asked Questions (FAQs)
Q: How long does it take to make?
A: This recipe is quick and easy to make. The hardest part about this soup is the prep time.
Q: How many servings do you make?
A: You can serve up to 8 people with one batch of soup.
Q: Can I freeze this soup?
A: You can freeze this soup, but please note that if you freeze it, you must thaw it before you reheat it.
Q: How long does it take to cook on the stovetop?
A: You can cook this soup in less than 30 minutes on the stovetop, which is perfect for busy people.
Q: How do you feel about it?
A: My slow cooker is my favorite way to make Easy Escarole Soup. I think this is the best way to make this soup.
Top Myth about escarole soup
1. This easy escarole soup recipe will make you sick if you have a cold.
2.1. This soup freezes well.
3. This easy escarole soup recipe cannot be used in cases where you are on antibiotics.
4. It will give you a bloated stomach if you eat it.
Conclusion
Escarole is a member of the broccoli family. It has a mild, slightly bitter flavor. It also has a lot of vitamin K, which is good for your bones.
I prefer to cook this soup on the stovetop. That way, I can control the heat level. If you're cooking this recipe on the stovetop, it's important to sautee the onions in a little oil first.
Don't cook them for too long, or they will turn brown.
I added the garlic initially because it adds a nice flavor, but it's optional. I love the smell of fresh garlic!
Cooking time is only 5-10 minutes, depending on how hot your stove is. I recommend checking every few minutes and stirring to ensure nothing burns.
Add the escarole and cook until wilted. Serve this delicious soup with crusty bread, or enjoy it as a healthy lunch.